Abu Safi Smart Hatchery in Palestine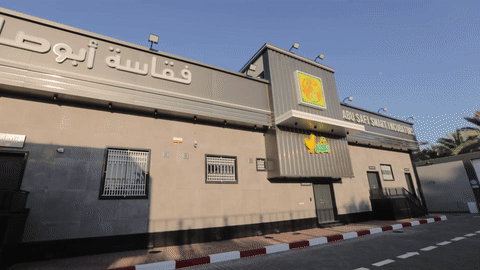 The Abu Safi Smart Hatchery is considered a distinguished model in the production of broiler, layer, and turkey chicks, as the incubator was designed at the latest level in the world. The best technology of European manufacturing companies has been used. A contract has been made with the Danish company LINCO in that LINCO incubators are distinguished by being superior in chick quality, low operating and maintenance costs, and a high level of biosecurity and durability. And get a regular, high-quality chick. The building was designed in the Palestine Gaza strip -Deir Al-Balah area in a very distinctive way, making it a distinctive artistic masterpiece, as the building was designed from reinforced concrete with the highest specifications and according to the latest methods and the best technology. to bacteria.
The building contains many rooms and sections, including the egg reception gate, the chick receiving room, the sterilization room, egg storage, the incubation complex, the hatching complex, the fluff collection room, the sorting room, the immunization room, the chick delivery room, the washing room, the waste area, as well as the equipment and maintenance room, the auxiliary equipment room, the electricity room, the olfactory energy equipment room, and the room The electricity generator, the guard room, the administration and service rooms area, the manager's office, the production line control via the computer, the exit gate for the chicks, the car garage area, and the area of the yard around the hatcher building.
All of the aforementioned rooms and departments are monitored with high-quality surveillance cameras, fire alarm equipment, air quality and civil defence equipment, according to the specifications of the Civil Defense Authority.
A system of fingerprint devices and a plate were installed to limit the entry of unauthorized persons to provide a safe environment inside the hatching grounds. The main hatching equipment was connected directly via the Internet with the manufacturer in Denmark to follow up the hatching equipment continuously and under the supervision of the maintenance engineer, Mohammad Abu Qassem, agent of LINCO Company in Palestine.
We would like to thank Mr Harry Sorensen Managing Director of LINCO Incubator ApS, And the staff at LINCO Company, with great thanks for the wonderful effort they made in the realization of this distinguished project in Palestine. Thank you, Mr Harry. Thanks, are also extended to Engineer Mohammad Abu Qassem for the great effort in implementing this project.
In the end, we tried, despite the difficulties and the very high costs, to design and build an incubator at the latest level in the world to meet the needs of our customers and provide them with the right chicks.